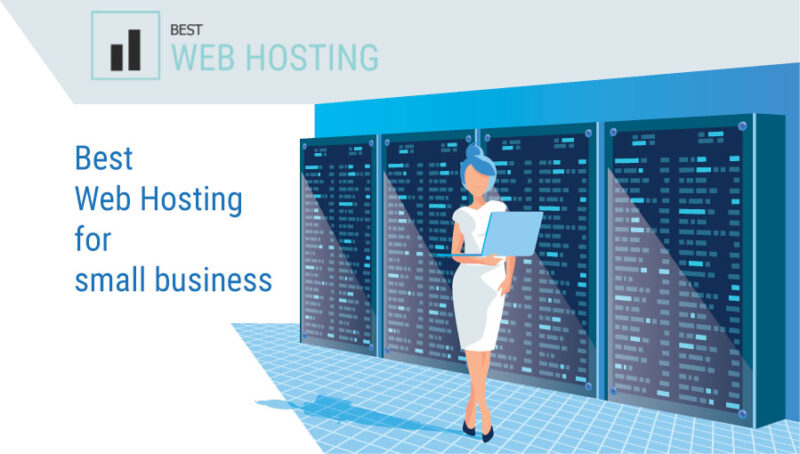 Best Web Hosting for small business: SMB Hosting Providers And Services For All Budgets
Every small business needs a website, but finding the right and best web hosting for small business isn't always easy. Many plans are targeted primarily at home users, and don't have the power that businesses need.
Best web hosting for small business
Take email, for instance. We've seen hosting plans offer as few as five email addresses for a website, and with inboxes limited to a few hundred megabytes, that's potentially a major issue for any business. Be sure to check out the email specs of any hosting plan before you sign up.
An SSL certificate is a must-have these days for any professional or business website, but these aren't included with every plan. Fortunately, they don't have to be expensive. Many hosts now offer free SSL certificates from the Internet Security Research Group's Let's Encrypt project, and although web stores might need something more, these are perfectly adequate for standard sites.
Small business websites can't afford to fail – ever – so reliability is key. Choose a Virtual Private Server (VPS) or dedicated hosting plan, if you can afford it, to avoid the hassles of shared servers.
Look for support that can be accessed at speed with telephone and live chat available, as well as emails and tickets. You'll probably want a plan that includes automated backups, too, but that's another area where you'll need to check the small print: backups are often an optional extra.
Think about an upgrade path, too, especially if you're starting with a basic shared hosting plan. If your business grows then your website needs might also expand, and it will make your life much easier if your chosen host has the add-ons and extras to cope.
There's a lot to think about, but fortunately, there are also some excellent hosting providers around that understand exactly what small businesses need. In this article we've highlighted six web hosts who have something to offer everyone, from the smallest home business to demanding corporate users.
Reasons to buy
+Unlimited bandwidth, emails, websites+Free SSL+Wide range of plans
Shared hosting is slower and less reliable than VPS and dedicated plans, but it's still perfectly adequate for many simple websites, and the best plans will handle all the main business needs.
SiteGround's shared hosting plan scores well on the fundamentals. There are no limits on bandwidth, emails or MySQL databases. Your site is secured by a free Let's Encrypt SSL certificate, and preinstalled WordPress allows you to get a quality site up and running in an afternoon – plus SSD storage as standard will keep performance high.
It has an A+ rating from the BBB and 4.7 out of 5 stars on TrustPilot. It sits in the middle ground between a consumer web hosting provider and one that caters to enterprise businesses. If you've got a small business with more complex web needs than a typical small business, SiteGround is an ideal solution — and if your business ends up expanding, the service has options to grow with you.
High-powered cloud hosting from a top provider
Reasons to buy
+Speedy cloud hosting+Good value+Private SSL included
Another option for small businesses is cloud hosting, and HostGator has some good offers for cloud hosting, especially if you value speed above all else.
Cloud hosting is a smart technology which spreads your website content across multiple devices, improving redundancy and speeding up load times. It's an interesting idea which has many business benefits, but if you choose wisely, you can try it out for less than the cost of some shared hosting products.
HostGator's Business Cloud, for instance, delivers on the business basics with support for unlimited websites, unmetered storage and bandwidth, and a private SSL certificate.
As this is a cloud plan, three mirrored copies of your website are spread across multiple hosting servers. If there's a hardware failure, your website can immediately be switched to another server.
All HostGator cloud plans give you shared access to a defined level of system resources (CPU time and RAM). Another benefit of cloud hosting is that you can purchase more of these and see the benefit immediately, with no downtime or time-consuming migrations required.
The high-end features continue with a distributed Varnish caching setup to accelerate the loading of your static content, freeing up RAM and CPU time for producing dynamic content.
While we've highlighted HostGator's cloud plans here, as an interesting improvement on regular shared hosting, the company also provides managed WordPress hosting, good value VPS packages, dedicated servers and more. There really is something here for everyone.
A good choice for newcomers
Reasons to buy
+Great value+Easy to use+SSL included
Some small businesses might not want to pay for VPS or cloud hosting, or they just can't afford it, so in that case, shared hosting is a good and affordable choice.
Hostinger has been around for a long time and over the years it accumulated over 29 million customers. The company above all has very wallet-friendly plans, and these are a great choice for any newcomers.
The pricing starts at just $0.99 per month over the 4-year period. Seeing as this is a starter plan, you only get one website and one MySQL database with 100GB bandwidth, but with that price, you can't really complain.
That being said, the best option for small businesses would be the "Business" plan which gives you lots of features as well as being four times faster than the starter plan. You get unlimited databases, and bandwidth for up to 100 websites across 100GB SSD disk space. The price is $3.99 per month over a 4-year period.
As you can see, you don't get many restrictions and SSL certificate, Cloudflare protection, and daily backups are also included, among other features.
The company also has cheap VPS packages with a starting price of $3.95 per month. This has 1 CPU, 1GB RAM, 20GB of storage and 1TB of bandwidth. The high-end tier package gives you 8 CPU, 8GB RAM, 160GB of storage and 8TB of bandwidth, with the price being $38.99 per month.
All in all, Hostinger is a capable provider with very cheap plans that can appeal to everyone more or less. If you are not satisfied, the plans are also fully refundable for 30 days.
Bluehost fits into the category we call "standard-fare" hosting providers, in that it offers a wide range of services, ranging from basic shared hosting up to virtual private servers and dedicated machines. We're putting them into the WordPress ecosystem category because Bluehost has a strong focus on WordPress in its offerings.
Reasons to buy
• cPanel: Yes
• SSL: Free
• SSH: Some plans
• Backups: Basic, plus more on select plans
• Money-back guarantee: 30 days
• Support: 24/7 chat, phone, email
We particularly like how this hosting service segments their WordPress offerings, ranging from basic shared hosting offerings up to their higher-performance pro plan, and then on to a WooCommerce-based shopping cart solution.
All solutions come with some level of backup, an Office 365 mailbox, and malware detection and removal. We also like the staging environment that Bluehost offers, allowing you to test your site and changes before deploying them publicly.
GreenGeeks has an A+ rating from the BBB and 4.4 out of 5 stars on TrustPilot. If you've ever been worried about the tremendous amount of power large data centers consume, you might want to check out this service.
The "green" in the company's name reflects the Green Geeks' commitment to the environment. It purchases three times the energy it actually uses in wind energy credits, essentially putting energy back into the economy. The company does this through a form of renewable energy certificates, which, while complicated, means that it's not just energy neutral, it's actually helping fuel the green energy economy.
Even though it's green, GreenGeeks still offers a lot of power for your websites. Its basic shared web hosting plan offers unlimited web space and email accounts, unmetered data transfer, an SSL certificate, a free domain name for the first year, a nightly backup, CDN and a 30-day money-back guarantee. It also offers live chat and email support 24 hours a day, seven days a week, 365 days a year. It also has phone support most hours of the day.
It is one of the more developer-friendly web hosting providers, too, with multiple PHP versions and Git preinstalled.
Filed under: Hosting
Tagged with: best web hosting, best web hosting for small business, SMB Hosting Providers